I'm Mike. I buy & trade casino gaming chips & tokens. I began this hobby in 1987, while living & working in Las Vegas.
Handling casino chips on a daily basis brought about my interest. I decided to visit every casino in Las Vegas and obtain casino chips. This offered the opportunity to not only collect chips, but to become intimate with the properties that issued them.
In the time since I started, a number of the casinos have closed or been replaced. The chips however, serve as a reminder of the once vibrant establishments. There has never been nor will there be a city quite like Las Vegas.
The Castaways for example, was a place that I often enjoyed. They offered wonderful late night culinary delights and I topped it off with a few hours (or few minutes!) at the roulette tables. While not a major casino, it was a place where they remembered your name. I will miss it!
At any rate,have a look around the site. If you see a particular item that you would like to trade for, make an offer. Some I will not part with, but include because they are part of the collection. If nothing else, you can compare your collection with mine.
A fellow collector,
Mike Griffin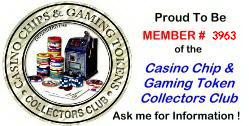 contact